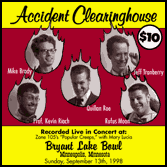 Live at Bryant Lake Bowl CD Cover
1

Interview

2

Weep Sweet Willow

3

Wastin' My Time

4

Interview

5

Ain't Got No Sweet Baby

6

Bedtime In Boogietown

7

Walkin' Away

8

Interview
This item is sold out but is available as a CD-R copy without packaging. More info >>>


"Live At Bryant Lake Bowl" was recorded September 13th, 1998, for the local radio program, "Popular Creeps." Mary Lucia Interviewed us. We like the way it turned out and we needed some fresh material to put out while we were putting the finishing touches on "By Blood and Marriage," and recording the as-yet-unreleased "Song of Summer." Scott had left the band to join the Peace Corp. with his wife after they were married. Kevin and Rufus had joined the band and our sound was changing.
"LatBLB" was recorded by Dan Nycklemoe and edited and mastered by Jon Tranberry and AC.
The album cover was done by Jeff & Quillan and each one was hand assembled. There are probably less than 500 copies of these out there.