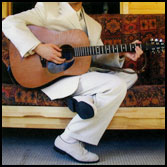 As Long As The Day Is Long
CD Cover
1

On My Own

2

I Don't Want To Be Forgot

3

People + Houses

4

The Last Great Saturday

5

The Tree

6

Happy

7

The Ring

8

The Artist

9

I, Colorblind

10

The Buckeye Tree

11

Falling

12

New Clothes
Quillan's solo effort recorded over the course of 2001. Features guest appearances by Mike Brady, Jeff Tranberry, Kevin Riach, Bob Barnes, Erik Douglas Tasa, Jon Rodine, Alisa Brooks, Katie Marshall, Peter Hoffman, Angel Erni, Laura Binkley, Steve Clarke, Patrick Phenow, Cletus Moon, Raynaldo Moon and Kim Quiel.
Produced, recorded, mixed and mastered at OBT by Jon Tranberry and Quillan Roe.
Cover and photos by Quillan. Additional photos by his dad, Steve Roe. Friberg Design helped out.