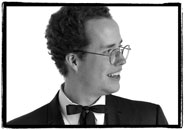 Name: Jeffrey Patrick Tranberry
Birthplace: Minneapolis, MN
Instrument: Pre-WWII Kay Concert Bass
Currently: Jeff is living with his fiancé, Rachel, and cat, D-Wayne, in south Minneapolis. He is working at Adobe Systems on the Photoshop and ImageReady products. Contemplating writing his first book.
What I'm Listening to: Recently ripped his entire music collection to MP3, enjoying 5.5 days worth of music, 2351 songs, in random order,
Favorite Musicians: Louvin Brothers, Beatles, Prefab Sprout, The Smiths, Ryan Adams, Johnny Cash, New Order, Lyle Lovett, Jayhawks, Prince, Carpetbaggers, Jellyfish, Todd Rundgren, Wayne Hancock, XTC, Uncle Tupelo, Faron Young, Elvis and Hank Williams Sr..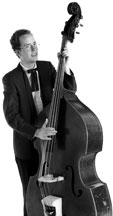 Local Favorites: Ashtray Hearts, Mason Jennings,
Florida, and First Prize Killers
You can find Jeff's bass on: Every Accident Clearinghouse recording, James Apollo's "Sweet Unknown," and Quillan & Mike's solo offerings. If you need upright, slap bass, on your next recording, you know where to find me.
Art: Degree from CoVA in photography, still does Photo-Art, and collects cheap cameras. Part-Time teacher at CoVA.
Favorite Apps: ImageReady, Photoshop, Illustrator, After Effects, InDesign, GoLive, iTunes, Flash, Cleaner, Candy Bar.
Free-Time: Jeff is a true geek who enjoys reading software manuals like novels and loves collecting Star Wars toys and super hero comics, which he adds, "Chicks dig."