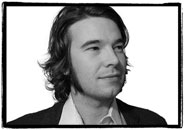 Name: Raenaldo Moon
D.O.B.: October 5th, 1975
Birthplace: Parts Unknown
Instrument: Mini-washboard, sand blocks, coconuts, juice-harp and back-up singin'.
Currently: Living in ye olde Saint Paul town.
Favorite Musicians: That band with the singer that looks like Chuck Norris, Beatles, Beach Boys, Neko Case, Flaming Lips, Louvin Brothers, Everly Brothers, Smokey Robinson, Beastie Boys, Wilco, Ween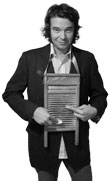 Hobbies: Studying the biology of the common house cat, playing hockey, doing push-ups, eating Wendy's chile, collecting plastic spoons, human beings, books (with pictures), and happiness
Favorite food: Anything that is left on the table after Rufus is done.
Kin: Rufus, Cletus, Rayfus, Smilin' Hoss, and Emil Moon; Quillan Roe