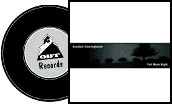 Scary Slumber
After drinkin' all day / just couldn't stay
I couldn't stand without you
'Cause I needed a break / just couldn't take
Any more time without your love
So I said to the ceiling above,
"Come and get me now."
But I lie here all night / feelin' alright
Watchin' a TV station
Showin' all of its show / nobody knows
What's on at 3am but me
And maybe the guy on the screen
Lookin' down on me.
I don't believe in anything to believe in
But I wanna try
'Cause I lost some sleep in a scary slumber
Dreamin' of you
When the sun catches up / I'm on the rug
Starin' up at the ceiling
Thinkin' each little square / knows that I'm there
But doesn't care how I'm feelin'
So I said the guy on the screen,
"Come and get me now."
I don't believe in anything to believe in
But I wanna try
'Cause I lost some sleep in a scary slumber
Dreamin' of you

M: vocals, electric guitar
Q: acoustic guitar, vocals
J: bass
Words and Music ©2002 Accident Clearinghouse