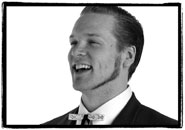 Name: Quillan Roe
Birthplace: Minneapolis, MN
Instrument: Acousitc Guitar
Currently:
Quillan works for the public schools, doing child-care. In his free time he pursues the twin muses, Art and Music. He has shaved off his side-burns.
Favorite Musicians:
Smattering; Gillian Welch; Bjork; Elvis; Erykah Badu; Erin McKeown; Hank Sr.; Wayne "the Train" Hancock; Tom Waits
CDs currently in my CD player
The Strokes; Musiq's "Juslissen;" Lateduster; Carol King's "Tapestry;" Dave Brubek's "Time Out;" Ryan Adam's "Gold;" Springsteen's "Ghost of Tom Joad"
Favorite Authors:
Dashiel Hammet, Raymond Chandler, Jack Kerouac, Allen Ginsberg, Lawrence Ferlinghetti
Comic Books:
Dan Clowes, Paul Pope, R.Crumb, Mike Mignola, Adrine Tomine
You can find Quillan on:
Every Accident Clearinghouse recording, and his & Mike's solo offerings.